Hawk Hollow Cairns
"The Girls"
Hawk Hollows Bride of Chucky
" Tiffany" 12/30/17
Tiffany is the newest member of the pack, She will be a future breeder for us, till then just enjoying life around here.
Sire- Gustopherson
Dam- Brie of Cairn Terrier Creek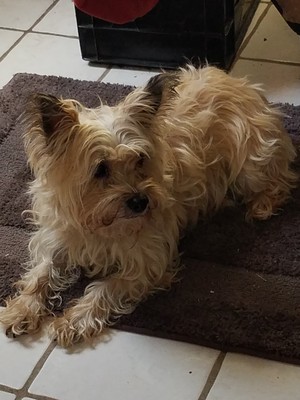 Hawk Hollows Here Comes Trouble
"Floozy" -(10/18/2007)
This is our little princess. She is red wheaten and she is full sister to Angel. She is such a sweet little girl and great mommy.
"Floozy is now retired "
Dam- Hoppe's Katie
Sire- Campbell's Kanas of Argyll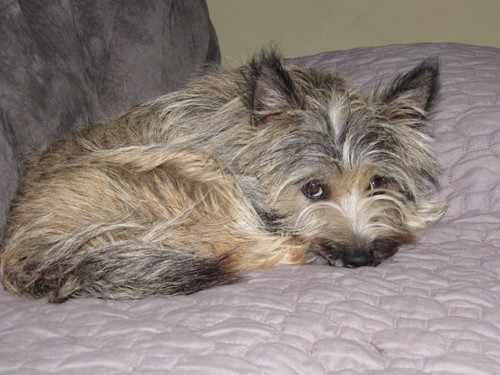 Hawk Hollows Here We Go Again
"Danica " 3/26/13
Danica looks to be a Wheaten Brindle. She is wonderful mom, she will be bred in the fall, watch for updates.
DANICA IS BRED TO NIXON FOR HIS LAST LITTER DUE 12/16/17
Sire- Benjamin Janes Todd Dam- Todds Mercedes
Hawk Hollows Lone Star
"Sara" (2/6/2015)
Sara is a black brindle with tons of personality and she had her first litter this summer and was wonderful mom. She will be bred again ,watch for updates
Sire~ Harley Pistol Pete
Dam~ D's Little Sugar
Hawk Hollows Get the Party Started
"Munchie " 4/20/14
Munchie look to be a gray brindle and she she is the sweetest dog , we are bred her to Chucky for litter due in Dec 2017
Munchie has her first litter and was awesome mom.
Sire- Ebonymoon's Benjamin Red
Dam- Northwind Savannanh Breeze
MUNCHIE WAS BRED TO CHUCKY FOR HIS FIRST LITTER DUE 12/16/17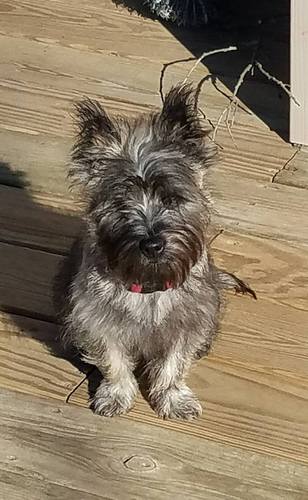 Hawk Hollows Simply Irresistible
" Izzy" (6/7/2017)
This little girl is daughter of Goldie & Nixon and she is replacing her mom,who is now retired and will be future date for Chucky
Dam- Hawk Hollows Little Goldschlarger
Sire- Hawk Hollows Trickie Dickie